Our muffins
Treat your customers with delicious muffins or brownies.
The majority of our products are kosher.

MUFFIN MIX
Our raw mixes are perfect for those who want to bake products on-site. And baking means creating very enticing aromas. It's just like walking into your favorite baker's kitchen when a fresh batch of warm snacks just came out of the oven.
Our range of flavours is so wide, there's something for everyone. While sugar lovers may choose fruit, chocolate or caramel filled muffins, health buffs looking for more sustainable nutrition will be delighted with our bran, oat or nut-based options.
Our raw mixes make muffins, but you can also use them to make cakes, four-quarter bread, verrines and many other products. Visit our recipe section for more ideas.

BROWNIE MIX
Making brownies has never been easier, with the ultra-chocolatey, melt-in-your-mouth, ready-to-bake mix, made with a creamy fudge texture. To vary your brownies, add raspberries, marshmallows, nuts or yes, we'll say it, more chocolate!
In 3.6kg bucket | Vary the size of your brownies | Without trace of nuts

BAKED MUFFINS
Choose simplicity and convenience with a product that's already baked and ready to serve. With a variety of packaging (bulk or individually wrapped) and paper cups (regular or tulip size) options, you'll find what's perfect for your customers.
Individually wrapped
Available in a variety of sizes, these snacks are baked to perfection in our ovens, then quickly frozen and individually wrapped to preserve and protect their full flavour. Simply defrost before serving. Available in regular or tulip paper, you'll find the nutritional value and ingredients on their transparent packaging.
Bulk
When defrosted, they regain their outer crust and soft inner texture. Reheating amps their flavours, making them even more delicious. Every muffin is made with quality ingredients, the majority of which are trans-fat-free.
Retail
Muffins can be developed for the retail market and placed in plastic packaging or a cardboard box. We offer tailor-made product development for our customers.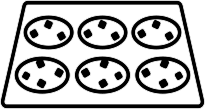 RAW, PORTIONED AND READY-TO-BAKE COOKIE DOUGH
A delicious snack that's easy and speedy to prepare, and there's no waste! Use only what you need and leave the rest in the freezer.
This crispy baked good is golden on the outside, soft and chewy on the inside. All doughs are made from a mixture of high-quality ingredients, and bursting with chocolate, nuts or raisins.

COOKIE DOUGH BITES TO EAT RAW OR ADD TO FAVORITE ICE CREAM SNACKS
The concept of eating raw cookie dough is probably as old as your great grandmother. However, market trends clearly indicated a desire for safe-to-eat cookie dough that's nostalgia and novelty wrapped into one.
Made with thermal flour and no eggs, they're delicious and very popular.

OATMEAL COOKIE MIX
Oatmeal cookies are classic and still in high demand. Several varieties are available for those who wish to create their own delicious versions, in various convenient sizes.

INDIVIDUALLY WRAPPED BAKED COOKIES
Our delicious, individually wrapped, pre-baked cookies allow you to offer ready-to-serve snacks without cooking. You get them frozen, so just pull out the amount you need to whip up a quick, tasty snack.
PIE SHELLS AND TOPS
NOVALI's history starts with our family's outstanding pie crust recipe. Over the past 30 years, we've perfected the art of creating authentic, delicious pie shells in a variety of formats and for all tastes.
Neutral or sweet, our light, flaky crusts can be filled with meat, turned into a quiche or carry your favorite tart or tartlet filling. Regardless of what you choose to prepare and put inside, trust that our crusts will highlight whatever dish you've planned to present. And it'll taste completely homemade.
In order to respond to ever-growing customer requests, a variety of buttery pie shells has recently been developed and added to our offerings.
And as always, custom product development is something you can consider.
PLAIN
Shell: 2 to 10 in.
Top: 4 to 10 in..
SWEETENED
Shell: 2-3-4-8 or 9 inches.
RETAIL FORMAT
Shells and tops in the same package
BULK
1-4 (2.2 - 8.8 pounds) and 15kg (33 pounds)

The majority of our products are kosher.
TAILOR-MADE PRODUCT
Novali Gourmet is more than a baking products manufacturer. We're a product development partner. An experienced sounding board where ideas come together, and new products are born. You want to stand out from the crowd and our goal is to help you get there. Trust that our experienced sales and R&D teams are valuable assets to develop unique and appealing recipes that will differentiate and grow your business.
We're unique in combining an industrial, high-volume production environment, governed by strict, rigorous sanitary rules, with artisanal outcomes that respond to market trends. Our factory is equipped with state-of-the-art equipment and managed by professionals with solid experience in the bakery industry. The result? A flexible manufacturing process that allows us to develop products and packaging to measure. We create unique products, deliver them quickly and help you find your unique spot in the market. We also work to support your marketing objectives.
Develop your custom product